KAYAKING IS A SPORT that can be done for leisure, exercise, or passion. Regardless of the reason, it's a great way to enjoy nature and get a different perspective on your surroundings. With so many diverse landscapes, the United States is packed with places to kayak. From Alaska to Florida — on wild rivers, quiet lakes, open ocean, and glacier-fed bays — this country is a perfect natural playground for kayakers of all abilities. Here are 10 unique kayaking destinations around the US.
1. Glacier Bay National Park, Alaska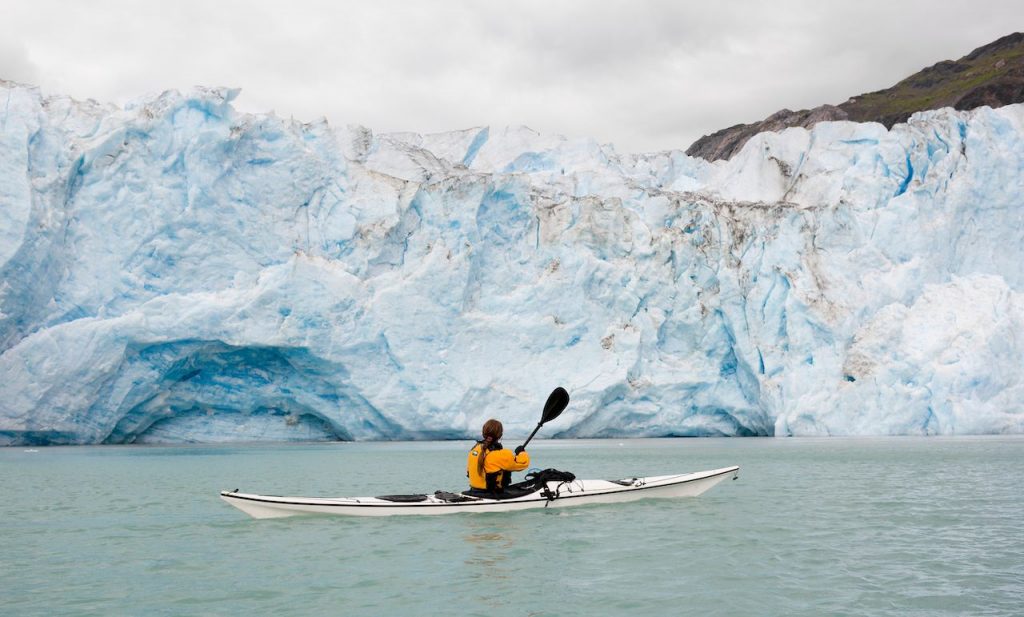 Alaska is just breathtaking. There's no way to downplay it. If you don't mind a little chill, then kayaking in the remote Alaskan wilderness is for you. Kayaking in Glacier Bay National Park offers paddlers an array of natural beauty and scenic mountain vistas. The NPS website has information on where to rent kayaks there.
Kayakers could have a close encounter with puffins, sea lions, orcas, or even a humpback whale. Being at sea level offers one of the few and most moving ways to appreciate the larger than life glaciers and icebergs that, sadly, won't be around forever.
2. San Juan Islands, Washington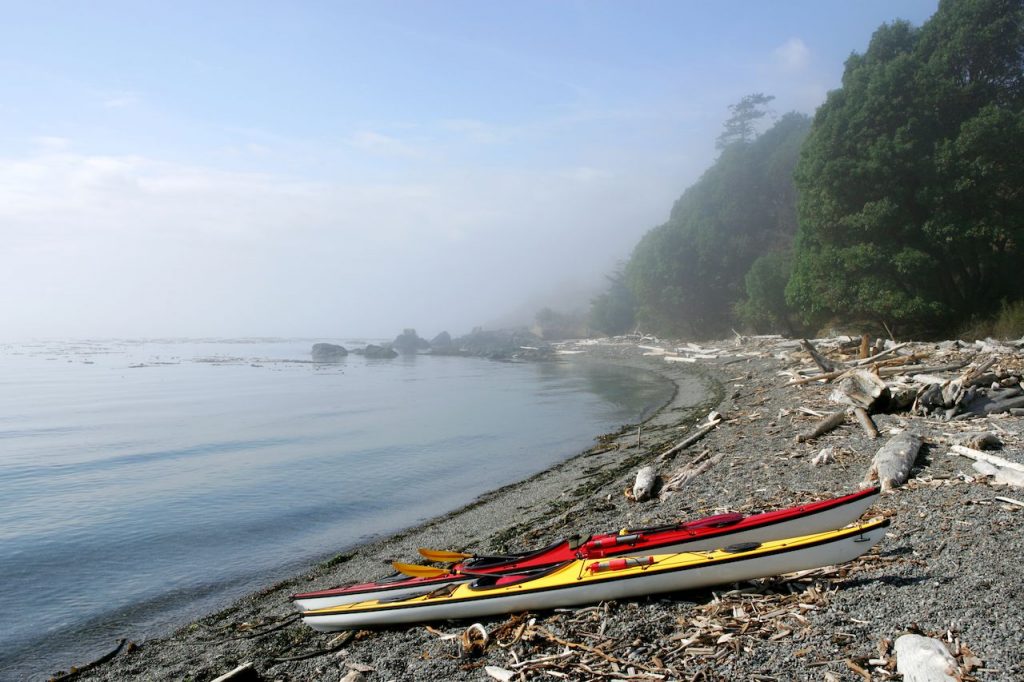 The San Juan Islands in northwestern Washington are places of rugged beauty. They are also one of the few places to kayak and see orcas at the same time. Kayaking around these famed islands often provides paddlers with close-up views of killer whales, sea lions, seals, dolphins, otters, and so much more.
Beyond the sea life, you can explore a number of charming coastal towns and tranquil coves amidst the backdrop of beautiful mountain scenery. You can rent kayaks on the three larger islands: San Juan, Orcas, and Lopez. Washington's coastal beauty and rocky shoreline will enthrall even the most experienced kayaker.
3. Colorado River, Arizona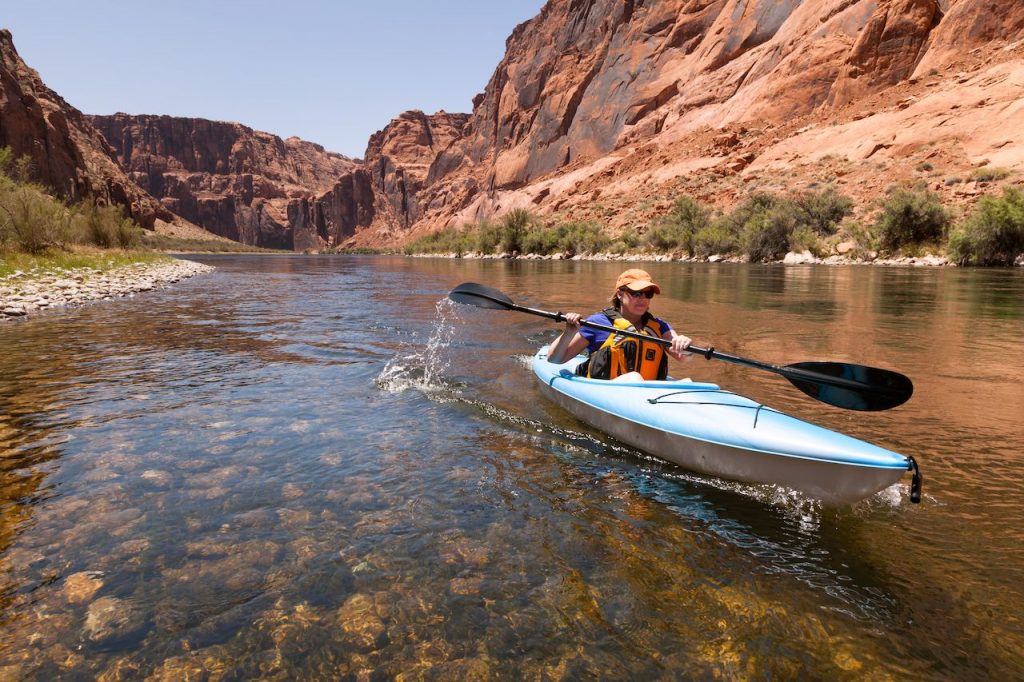 For many, kayaking the Colorado River is a bucket list item. Have no fear though, kayakers of all ability levels can experience a ride through the river that carved out the Grand Canyon. There are several guides in Arizona that take visitors through the waters of this mighty river.
Stretching 1,450 miles, the Colorado River has sections with gentle stretches, as well as those with rougher waters for the expert thrill seekers. Regardless of your experience level, paddling through a giant canyon has to be an adventure of a lifetime.
4. Salmon River, Idaho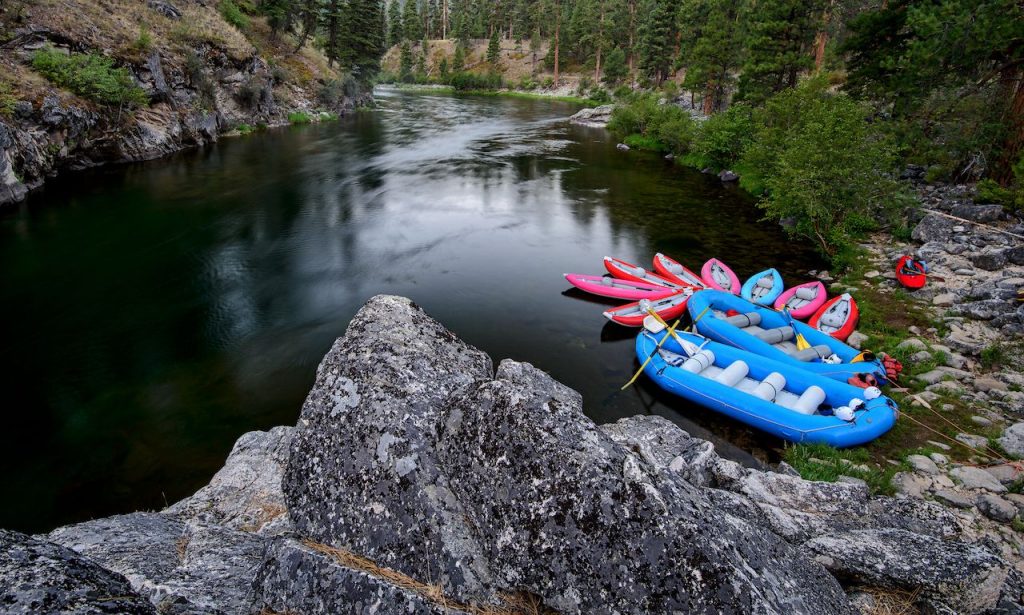 Idaho's Salmon River is known as the river of no return — because its speed and rapids make it so difficult to navigate back up. It's one of the top kayaking destinations in the US, due to intense water flow and its deep canyons. Given the whitewater, kayaking here requires a higher skill level.
Guides often take kayakers on multi-day hiking and paddling trips through various sections of the river and camp on the riverbank's beaches. If you're an experienced kayaker and are up for the challenge, the Salmon River could be the spot you're looking for.
5. Na Pali Coast, Kauai, Hawaii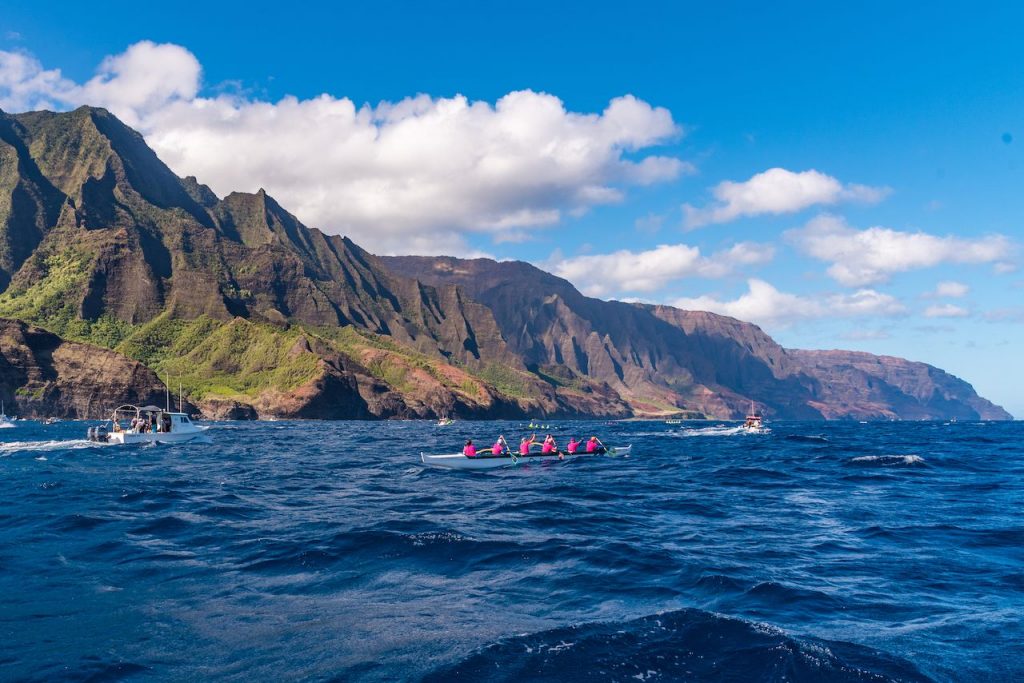 For a tropical experience that's out of this world, an ocean paddle along Kauai's Na Pali Coast is needed. Considered the Everest of sea kayaking, this 17-mile voyage is not for novices. Kayakers will view majestic cliffs and fruit valleys, waterfalls spilling into the sea, and loads of marine life. This Hawaiian coast kayaking adventure is sure to remind you of remote islands seen only in movies.
Since April 2018 floods closed the island's northernmost stretch of road, kayaking outfitters like Kayak Kauai have started the kayak expeditions to the Na Pali cliffs from Polihale on the west side and have found it less arduous. (When the road reopens, excursions will be available from both locations.) Either way, due to dangerous swells at other times of the year, this kayaking expedition can only be completed from May to September.
6. Lake Powell, Utah and Arizona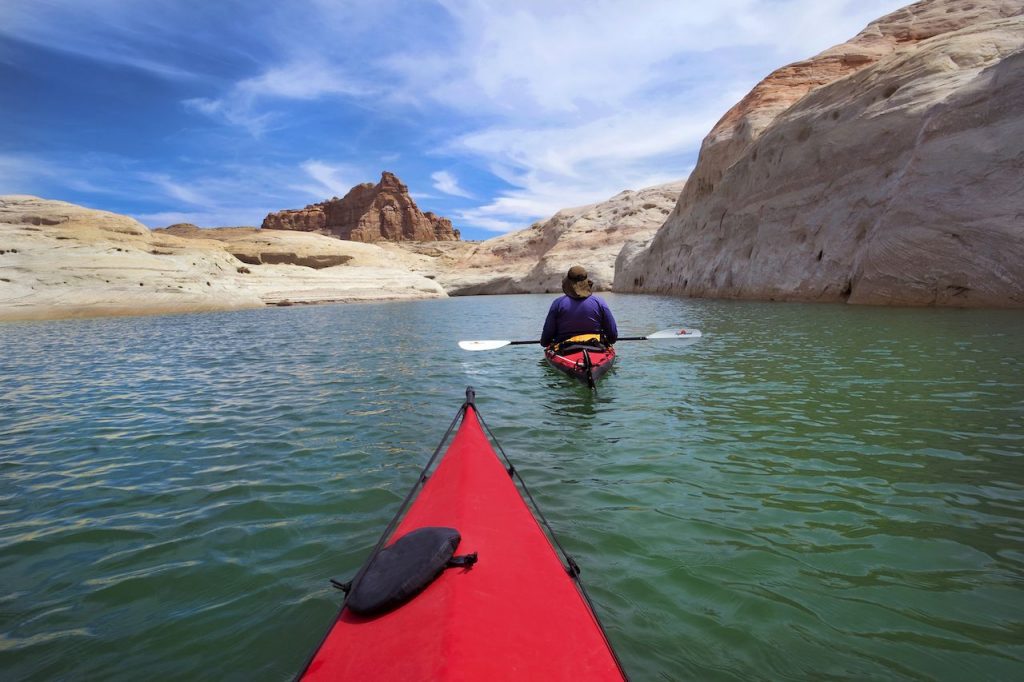 Many kayakers rank Lake Powell in Utah as the most beautiful spot to paddle in the US. It's considered a hidden gem in the Southwest, and a very popular destination due to the deep slot canyons that surround the lake. Beginners and experts alike can paddle through scenic geological wonders and see these stunning canyons up close and personal.
Most people take a tour through the flooded section of the most famous slot canyon, Antelope Canyon, which can also be organized through outfitters on the Arizona side of the winding lake. It is without a doubt the most intimate way to explore the beauty and splendor of Lake Powell.
7. Pictured Rocks National Lakeshore, Michigan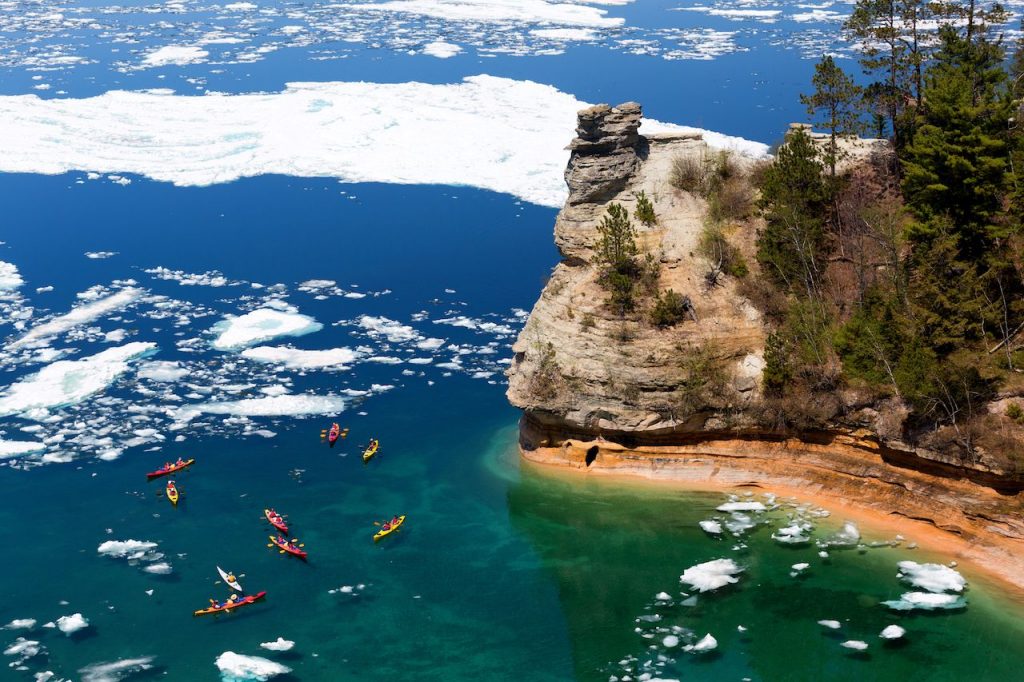 Located on the shoreline of Lake Superior in Michigan's Upper Peninsula, the Pictured Rocks National Lakeshore will come as a surprise to many. The stunning beauty of the towering cliffs, waterfalls, and rocky archways paired with the blue and green water are simply remarkable.
Starting in the town of Munising, where you can rent your kayaks, you'll hug the coastline and paddle through secluded coves and under colorful rock formations. These 42 miles of lakeshore beauty are a superior kayaking destination.
8. Mangroves in the Everglades, Florida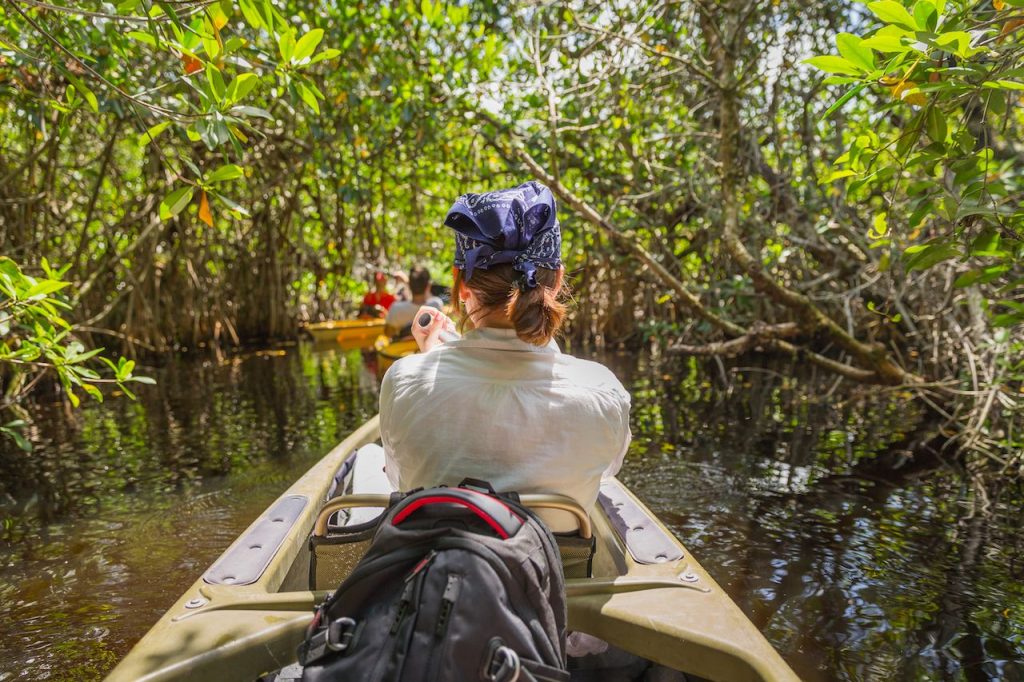 If kayaking near a gator doesn't frighten you, paddling through the wetlands of Florida is an activity you should try. The Everglades are home to various ecosystems and traveling eye level through the marshes is remarkable. Paddling through the streams, mangroves, and the "river of grass" is quite a peaceful ride.
Kayakers should see a variety of birds, and yes, the occasional alligator basking on the shore or with its snout peeking over the water. With gators about, you may prefer a guided kayak tour; Everglades Area Tours is one option for such. The climate in southern Florida is usually hot year-round, so trying this adventure in the winter or spring is your best bet.
9. Lake Tahoe, California and Nevada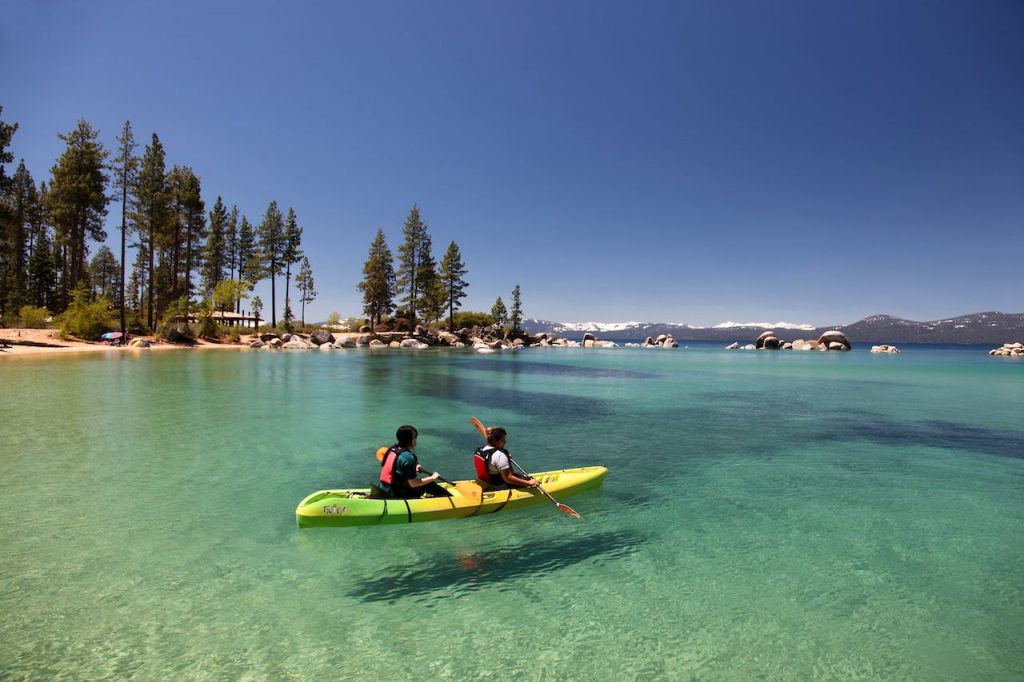 The serenity and crystal-clear water of Lake Tahoe, North America's largest alpine lake, make this an ideal kayaking destination. Outdoor enthusiasts flock to this area, staying either on the California or Nevada side, to enjoy the calm blue water and to paddle against a backdrop of jagged mountains and evergreen forests.
The shoreline around Lake Tahoe varies by location — and several kayak rentals are available on the south shore, as well as along the northwest shore — but kayakers can expect to paddle around massive boulders in the east to soft sand alcoves in the north. Regardless of your preference, these 75 miles are a paddler's paradise.
10. Sea caves, Mendocino, California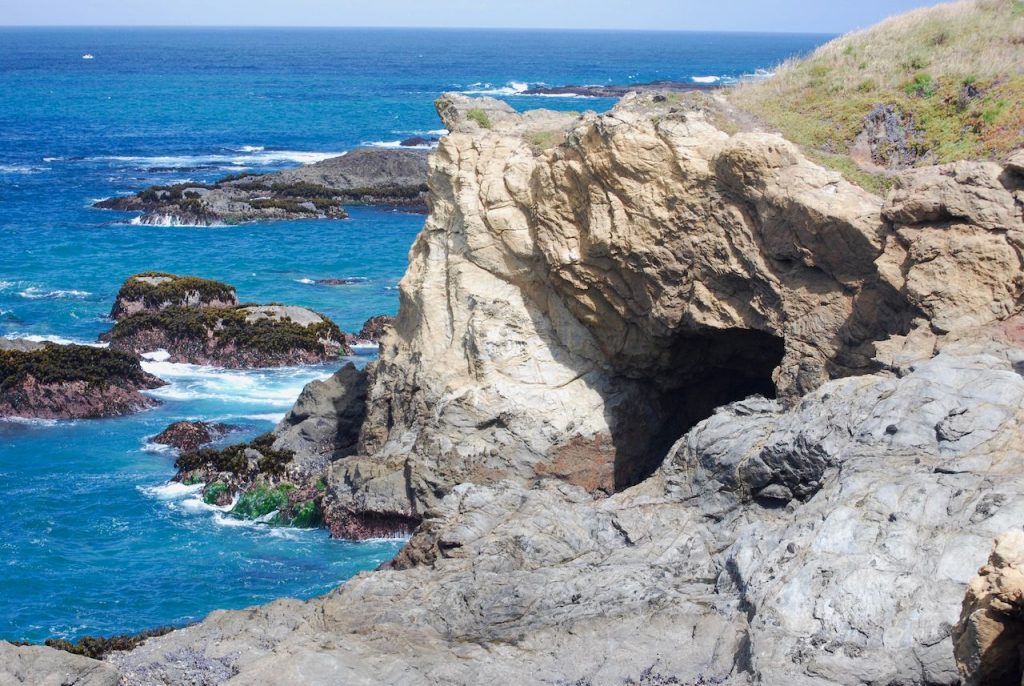 The sea caves located just offshore in Mendocino, in northern California, are truly a sight to see. Kayakers depart from the beach at Van Damme State Park and within minutes can paddle toward narrow sea caves and shallow coves. Kayakers will love paddling near the cliffs and enjoy spotting some harbor seals and other marine shorebirds nearby.
It's a great place to kayak because the naturally formed channels in this area allow paddlers to steer clear of the high wind and surf from the Pacific Ocean. You can also organize tours through Kayak Mendocino. Kayaking in and out of the sea caves and over kelp beds is a once-in-a-lifetime experience.
Source: Margie DQ from matadornetwork.com
To stay on top of all our coupons, check: Wethrift.com/SandbaySports